Photo Credit: 123RF | @citalliance
How To Take The Best Photos During
Your Beach Vacation
Published May 9, 2022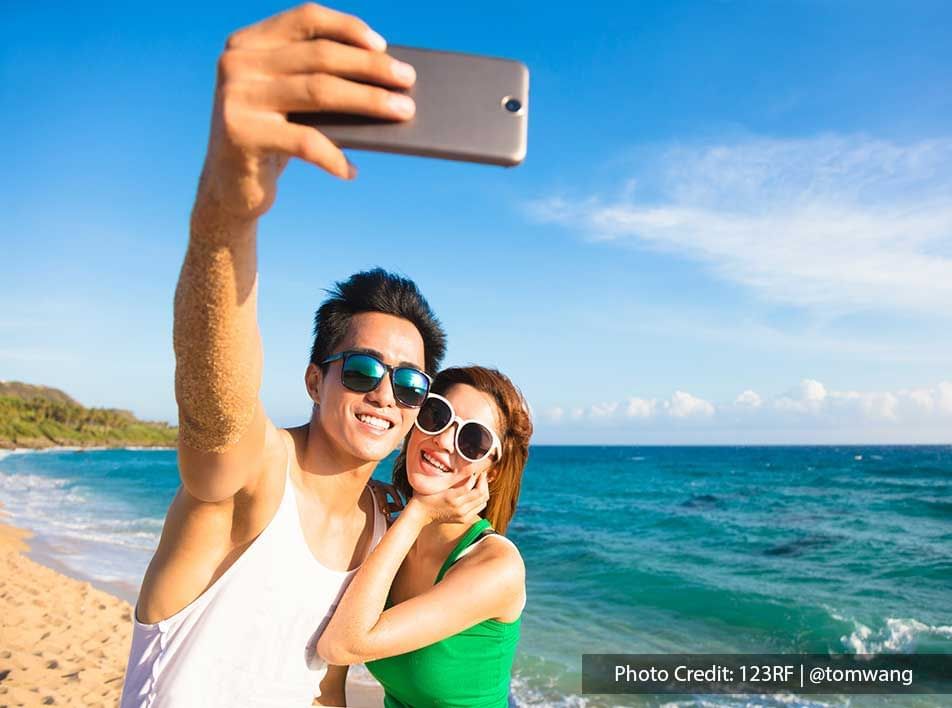 Blue sky and white sandy beaches. What is there not to love about a beach vacation? The thing is, why doesn't the photos you take reflect the actual scenery that you were so head over heels with? The sand doesn't seem to be as white, the sky doesn't seem to be as blue, the sunset over sea horizon doesn't seem as majestic as when you were actually there witnessing it? Capturing the breathtaking beauty of the beach is a tricky task as the elements such as lights and space might surprisingly work against you.

Well, not to worry as the Lexis team have you covered with a few practical life hacks that will fix all of that! Keep reading as we will be sharing a couple of beach photography tricks, sharing the secret of how to take good beach pictures for Instagram.
1. Always have a focal point
One of the things that makes sea view so breathtaking is the miles and miles of unobstructed view filled with nothing but waves crashing onto the shore. As majestic as what the shutter of your brain takes in at the moment, the wide space in front of you may not make the best photograph. The photo may appear flat and uninteresting no matter how you attempt to capture the broad space and beauty of nature that is laid out right in front of you. Well with the right beach photography tricks, we can change that!

Make sure that every shot has a focal point. A focal point is something that draws the viewers' attention, giving them a spot to focus on while providing context to the shot. It creates dimension and layers to your shot, telling a story and keeping things interesting for your viewers without you having to play narrator and explaining every single picture over and over again.



This may be one of the simplest beach photography tricks in the book as all you need can be as simple as a branch, a seashell, a fairly attractive rock, a crab, or the silhouette of the person you love promenading on the white sandy beach. The next time you're taking a nature shot on your beach vacation, remember this beach photography tip and try to focus on a focal point to see the difference!

2. Framing your focal point
The next beach photography trick helps to further enhance your composition and keep your viewers focused on your focal point. This extremely popular beach photography tip is called framing and is one of the most common compositional techniques that can produce an extremely powerful impact on the cool pictures you take at the beach.

To apply this awesome beach photography trick, all you need to do is find something you can use to frame your focal point. It can be a flock of birds, surrounding foliage, or even an old wooden frame (that you can bring alone just to literally get the perfect framing).
3. Take advantage of the Golden Hours

The beach is the absolute perfect place to enjoy the most majestic sunrise and sunset, making sunrise and sunset shots an absolute must for any beach vacation (given that you are able to rise before the sun does). With the sky in a rare shade of warm red and the light softer than the rest of the daytime shortly after the sun has risen and before it sets over the sea horizon, these are definitely the best times to take photos at the beach.
This beach photography tip is based on the fact that with dimmer lighting, the likelihood of any photo taken ending up overexposed is highly unlikely. That is why most seasoned photographers who's worth their salt consider this period of time the most desirable time for nature photography. Another added advantage is that the beach would most likely be less crowded at these hours so you can have an entire beach to yourself, resulting in photos that are less cluttered.
4. Climb higher to get a high vantage point

Having an entire photo album of your beach vacation taken from water level can be… well, for a lack of a better word, boring. If you have some extra time on your hand, why not try capturing your subjects from a higher vantage point to give your shots a unique and richer composition. This beach photography trick will give your viewers a unique sense of point of view (POV). And no, you don't always have to climb a steep hill or very far to obtain a higher vantage point.
The beauty of this beach photography trick is that you can simply step onto a big rock, a stool, or use a ladder. If you're feeling inspired and adventurous, you can even climb on the shoulders of a friend, balance yourself on a tree branch, or even stand on your car to get the right vantage point.

Now that you're well equipped with a few of the most powerful beach photography tricks and gained a better understanding on how to take good beach pictures to share on Instagram, don't forget to apply them on your next visit to our water chalet in Lexis Port Dickson! We look forward to seeing more fabulous shares, so don't forget to tag us at @lexisportdickson. Who knows your masterpiece might get featured in our next blog post on beach photography tips! Have fun experimenting with your new found photography wisdom!