Photo Credit: 123RF | @epicstockmedia
The Ultimate Weekend Itinerary in Port Dickson
Published May 27, 2022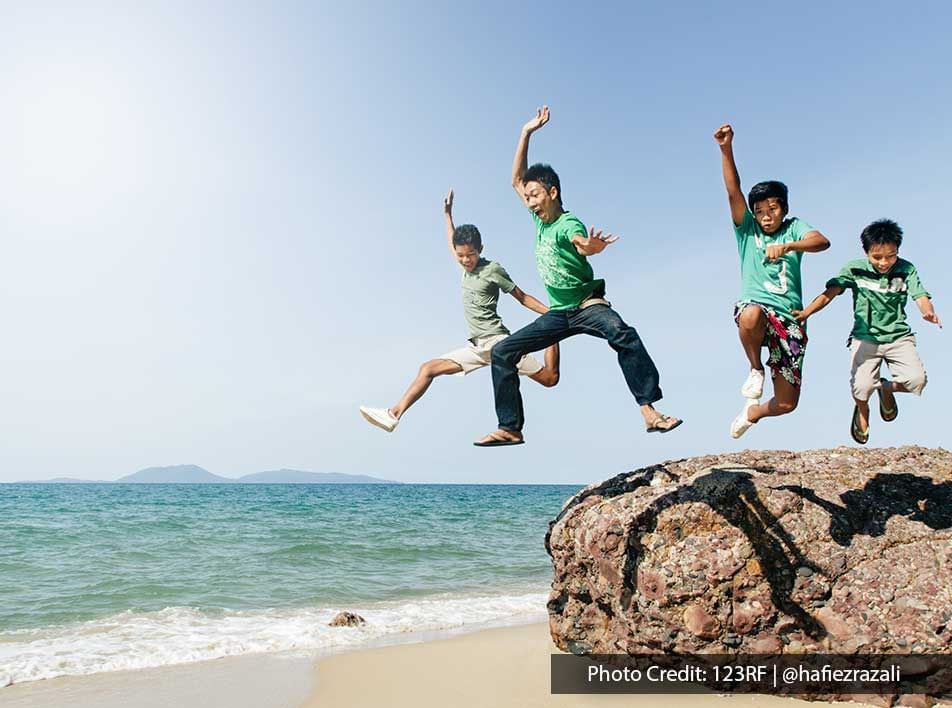 Enjoying a quick getaway does wonders for the mind, body and soul. Especially for city folks who are constantly caught up in the fast pace of the urban living, a short time away from the hustle and bustle of their daily lives, even if it's only for the weekend, will definitely help to give them a much-needed recharge so that they can start the coming week fresh and energetic.
For city dwellers in the Klang Valley, we are very fortunate to have wonderful places like Port Dickson just a stone's throw away, or just over an hour's drive away to be exact. Planning a weekend or even a daytrip in Port Dickson is relatively easy as there's plenty of fun things to do for thrill seekers, there's also countless interesting places to see for sightseers. There's plenty of trip itineraries and guides available online, serving as an easy reference for those who are planning a daytrip or a weekend in Port Dickson.
1. Beach, Please!
The number one recommended activity on most of these Port Dickson trip itineraries and Port Dickson guides is definitely to visit the sandy beaches along the coast of Port Dickson. In fact, some would even go as far as saying that most of the fun things to do in Port Dickson and best places to visit in Port Dickson have everything to do with its many scenic beaches. The Blue Lagoon Beach, Pantai Saujana, Pantai Cahaya Negeri, Bagan Pinang Beach, Pantai Seri Purnama and Teluk Kemang Beach are just a few examples of insta worthy places to go in Port Dickson that you should definitely not miss and should definitely be at the top of your Port Dickson trip itinerary.

2. Get Your Adrenaline Pumping With Fun Outdoor Activities

Most Port Dickson trip itineraries and Port Dickson guides will also recommend that you spend some time enjoying various outdoor activities available in Port Dickson. For those who are planning to turn their daytrip or weekend in Port Dickson into an unforgettable adventure, they will be very pleased to discover adrenaline-rush activities like ATV bikes, paintball war game, go-kart racing, archery, ostrich riding and jet-skiing, jungle trekking are also on the list of fun things to do in Port Dickson, so they can take their pick and enjoy a blood-tingling weekend in Port Dickson.

What Are the Best Places to Visit With Tons of Fun Things to Do:

X Park Malaysia
Extreme adventure sports fanatics should not miss out on this outdoor extreme park with its thrilling activities including go-kart racing, ATV - jungle trail rides, archery, paintball target shooting and paintball war games.

Operating Hours: 10:00am - 6:00pm (Daily. Closed on Tuesdays)
Contact: +6013-341 5812
Address: Jalan Pantai Batu 13 KM 21, Mukim Pasir Panjang, 71250 Port Dickson, Negeri Sembilan
Surrounded by rich natural landscape, Uncle Wong Happy Farm is perfect for outdoorsy nature lovers who enjoy activities like ATV rides, kayaking, pedal boating, camping, fishing or even a nice BBQ with family and friends. This little fun haven also enables kids and animal lovers to pet and feed cute herbivorous animals like rabbits and tortoises, as well as features a natural stingless bee farm, where you can purchase delicious freshly-harvested natural honey on the spot.

Operating Hours: 9:00am - 7:00pm (Daily)
Contact: +6011-5413 9193
Address: Lot 11886, Bukit Permata, 71010 Lukut, Port Dickson, Negeri Sembilan
Located at Kampung Sri Parit Lukut, Port Dickson, Sky Ladder Pineapple Farm offers a fascinating agrotourism experience with an assortment of outdoor activities related to the local farm life. In addition to a pineapple plantation, visitors can try their hands at picking and harvesting their own corn and sampling fresh-picked corn at the corn plantation available at the farm. Young visitors can visit the mini animal petting farm to feed farm animals such as sheep, ducks and geese; while adventurous visitors can explore the farm with ATV and bicycle rides.

Entry Fee: RM10 (Adult) | RM5 (Child)
Operating Hours: 9:00am - 6:00pm (Daily. Closed on Wednesdays)
Contact: +6017-617 3633
Address: Lot 2273, Jalan Kampung Sri Parit 3, Bandar Baru Lukut, 71010 Port Dickson, Negeri Sembilan
One of Port Dickson's most popular attractions, PD Ostrich & Pets Show Farm houses magnificent ostriches, where visitors can pet them and also ride them. Mystery prizes await for visitors who can outrun the ostriches in an ostrich race. The show farm will also be an educational experience for kids and families alike, as they will be able to ride ponies and donkeys, and feed other farm animals like rabbits and guinea pigs.

Operating Hours: 9:30am - 6:00pm (Mondays to Thursdays) | 9:30am - 6.00pm; 6.30 pm - 11:00pm (Fridays to Sundays)
Contact: +6018-203 8682
Address: Lot 1419, Jalan Kemang 13, Batu 9, Jalan Pantai Teluk Kemang, 71050 Port Dickson, Negeri Sembilan

Adventurous hikers looking for a scenic hiking spot can go to Tanjung Tuan. Perfect for hikers of various experience levels, there are six trails to choose from: forest trail, Dutch Well trail, Monkey Bay trail, Vantage Point trail, Pulau Intan Trail, and Bukit Batu Putih Port Dickson trail. At the end of this uphill trail is a beautiful cliff view of the ocean.


3. Explore Port Dickson's Rich History & Culture

Another activity that would definitely be on almost every Port Dickson trip itineraries and Port Dickson guides you find online is visiting the various tourist attractions in Port Dickson. Having a rich history and colourful cultural background, there are more than enough tourist attractions in Port Dickson to fill up your Port Dickson itinerary. In fact there's so many places to see in Port Dickson that just one weekend might not be enough for you to cover all the tourist attractions in Port Dickson.
Some of the more popular Port Dickson tourist attractions that you should definitely see for yourself are:
Nestled next to a Malaysian army camp, the museum (also known as Muzium Tentera Darat), is dedicated to preserving the stories of Malaysia's brave men and women, and strives to educate visitors on Malaysia's military capabilities. Military enthusiasts will enjoy exploring the outdoor exhibits with its variety of army vehicles on display including an old steam train, helicopters, tanks and other aircraft. The highlight of this museum, however, is the recreation of the CPM (Communist Party of Malaysia) tunnel - an underground tunnel used during the Malay Emergency.

Operating Hours: 10:00am - 5:00pm (Thursdays to Sundays. Closed on Mondays to Wednesdays)
Contact: Email them here
Address: Kem, Persiaran Pahlawan, Kampung Baru Sirusa, 71050 Port Dickson
Built in 1847 by Bugis warrior, Raja Jumaat, to quell the rising tension amongst immigrants over control of the lucrative tin trade in the area, Lukut Fort is a prominent historic fort located on top of Bukit Gajah Mati. Visitors are treated to a bird's eye view of the sleepy town of Lukut from the pinnacle of the fort, and can explore its illustrious ruins.
This historical site also houses a museum which was established in an effort to preserve the history of Lukut as well as the cultures and customs of its most fascinating indigenous tribe - the Minangkabau. Visitors have the opportunity to view interesting relics including pottery shards, stoneware and artefacts from the Nasau, a Dutch battleship which was submerged off the coastline of Tanjung Tuan during the Battle of Cape Rachado.

Operating Hours: 9:00am - 6:00pm (Daily)
Contact: +06-651 2954 / Email them here
Address: Lot 730, Jalan Besar, Taman PD Jaya, 71010 Port Dickson


Cape Rachado Lighthouse
Built in the 16th Century by the Portugese, Cape Rachado is the oldest and still functioning lighthouse in Malaysia. Originally constructed to help guide ships to the Malacca port, the lighthouse today houses a MEASAT Radar for broadcast and communications. This popular tourist spot draws visitors from all over the globe due to its scenic surroundings, offering sweeping views of the Straits of Malacca and as far as the coast of Sumatera, Indonesia.

Address: Jalan Pantai, Tanjung Tuan, 71050 Port Dickson
Wan Loong Temple
Known as the "Dragon Of The Clouds", this striking Buddhist temple pays homage to the Goddess of Mercy and the Monkey God. With its opulent architecture and imposing fortress walls, this temple is hard to miss. Visitors should not miss out on the pools here filled with colorful fish and on occasion, have the chance to see the giant turtle roaming the grounds.

Contact: +60 17-662 6028
Address: Buddhist Temple, Kampung Teluk Kemang, 71050 Si Rusa, Negeri Sembilan
Fort Kempas
Historical buffs should not miss out on a visit to Fort Kempas, located in a small village in Port Dickson called Keramat Ujong Pasir. Contained within this historical complex is a 15th century tomb of Ulama Sheikh Ahmad Makhtum, a leading historical personality who was slain in the battle with the army of Sultan Mansor Shah of Malacca. Visitors can find stone inscriptions which depict Ulama Sheikh Ahmad's struggles and eventual victory in spreading the Islamic religion throughout Malacca.
Next to the tomb are various ancient stones or megaliths known as "Living Stones", thought to date from the second or third century AD, resembling a spoon, rudder and sword. Locals believe these stones are magical and able to grow in size each year. There is also an interesting stone covered in Arabic calligraphy with a cylindrical shaped hole, that is said to work like a lie detector. Visitors have recounted their experience of inserting their arm in the hole and the hole would tighten around their arm, when they told a lie.

Address:
Pengkalan Kempas, 71150 Linggi, Negeri Sembilan

4. The Perfect Seaside Staycation

Finally, if you're planning your ultimate weekend itinerary based on trip itineraries and guides you find online, you will definitely come across popular sea-facing hotels and resorts recommended by netizens who are sharing fun things to do in Port Dickson. One of the top hotels and resorts that comes highly recommended for those who prefer a more modest and affordable lodging for their Port Dickson daytrip or weekend would surely be Lexis Port Dickson. With 242 chalets and tower rooms, Lexis Port Dickson offers nothing but the best of local hospitality and services to each and every guest.
Now that you know what to expect and what to include in your ultimate weekend itinerary to make the most of your visit to Port Dickson, you can start working on one based on your personal preferences and interest. Happy planning!